We're rather chuffed and bouncy today – not least because it's Friday, but also because we can tell you about the next event!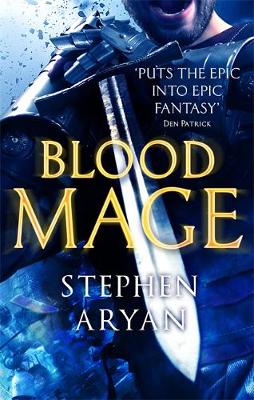 On Tuesday 26th April, SFSF is co-hosting a signing and launch event for Stephen Aryan's new epic fantasy novel Bloodmage at Waterstones, Orchard Square, Sheffield. Bloodmage is the follow-up to last year's rather awesome Battlemage, from Orbit Books, and we'll have copies of both books available for sale and signing on the night.
Here's the book blurb:
The people of Perizzi have survived the battlemage war, but their future is looking darker than ever…BYRNE is a member of the Watch, investigating a series of murders in which the corpse was drained entirely of life. FRAY's expertise with magic is needed to catch the killer, but working with the Watch destroyed his father, years before. CHOSS is a champion fighter, trying to diffuse a war in the underworld that threatens to turn the streets red with rivers of blood. KATJA is a spy from a foreign land, attempting to prevent a massacre that will topple two dynasties and destroy the fragile peace in the city for ever. Watchmen and spies, assassins and criminals will clash on the streets in this magic-fuelled adventure from the author of Battlemage.
You can see the event page and location details at the Waterstones site, and we'll be adding on an Eventbrite link very shortly.
Naturally, it wouldn't be a SFSF without at least a few little giveaways, but you'll have to be there on the night to see what we got… 🙂